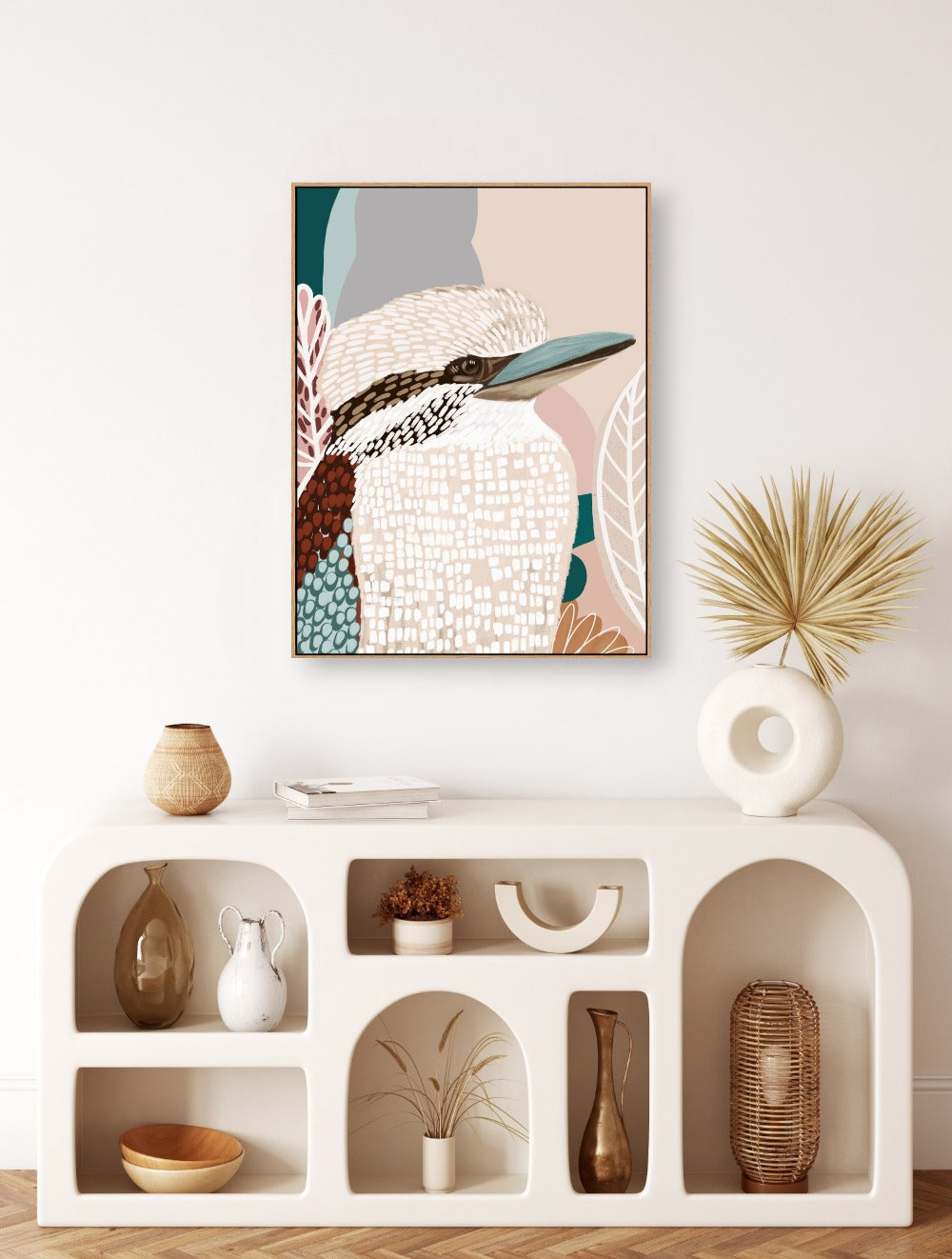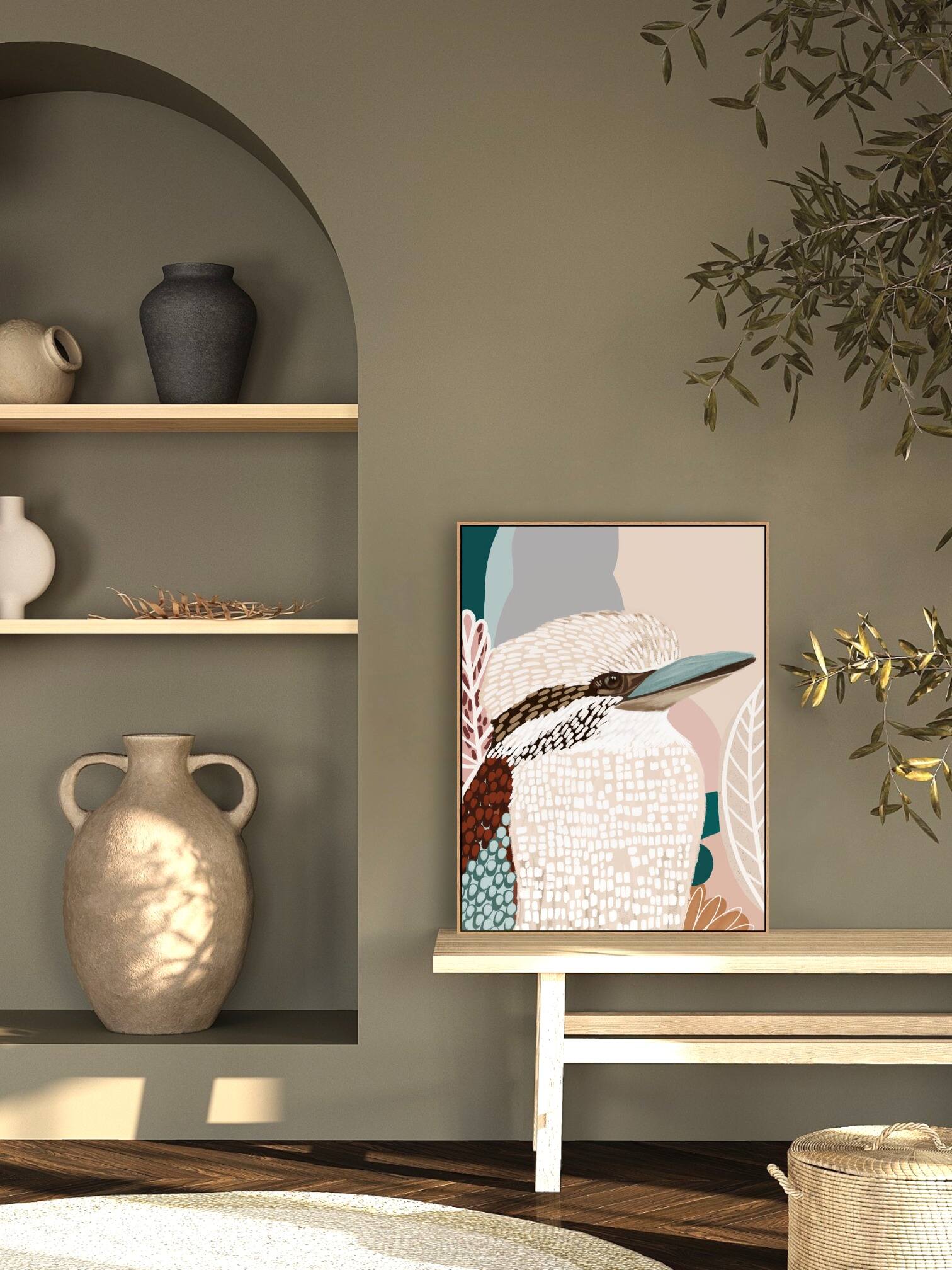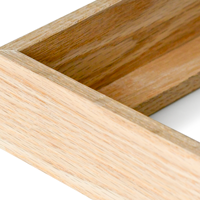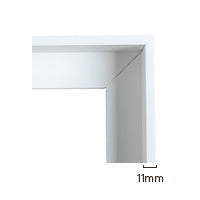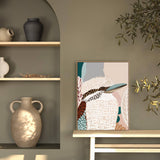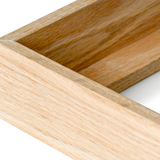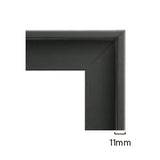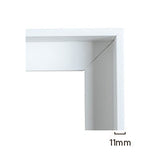 Kookaburra in Pink No.2 - Framed Canvas Print
AfterPay & Zip Pay Available
Description

Canvas Prints

Shipping

Returns Policy
Discover the Charm of Australian Animal Art with Our Exquisite Pink Kookaburra Print
If you're a nature lover, a bird enthusiast or someone who appreciates the unique beauty of Australian animal art, you're going to love this gorgeous Kookaburra wall art. This abstract artwork of this cheeky bird will have you reminiscing about the times you've seen one in the wild, being drawn to him sitting on his perch by the trademark laugh.
What Does This Australian Animal Art Print Represent?
The Essence of the Kookaburra Captured in Art
The Pink Kookaburra print which is part of our Wild Collection is more than just wall art; it's a representation of nature's botanical beauty and the whimsical character of one of Australia's most beloved birds. The vibrant details and life-like portrayal in this print bring the spirit of Australian wildlife right into your home.
A Symbol of Joy and Nature's Beauty
Displaying this art print in your space reflects a deep appreciation for the natural world and the joyous spirit of the Kookaburra. It's a statement of your connection to wildlife and your support for preserving nature's wonders.
How Will the Kookaburra Art Print Transform Your Space?
Creating a Tranquil Atmosphere
The blend of soft pink and soothing blue hues in this artwork infuses any room with a sense of calm and tranquility. It's an ideal piece for creating a peaceful corner in your home where you can unwind and reconnect with nature.
Versatile Styling Options
This Australian animal art print's neutral colour palette makes it incredibly versatile. Whether you're aiming for a modern minimalist look or a more vibrant, eclectic style, this print adapts seamlessly to your interior design.
Custom Framing to Complement Your Decor
Options to Suit Every Style
We offer custom framing options to ensure your new art print perfectly matches your space. Choose from Natural Oak for a raw, earthy vibe, Classic Black for a touch of elegance, or Classic White for a crisp, coastal feel.
Enhancing Your Interior Design
The right frame can elevate the artwork and your room's overall aesthetic. Our framing options are designed to enhance both the print and the space it inhabits, creating a cohesive look.
Limited Edition: A Unique Collectible
Rarity and Exclusivity
With only a limited number of prints available, owning one of these Pink Kookaburra prints means you're one of the few to showcase this unique piece of Australian animal art in your home or office.
Investment in Art
Limited edition prints like this one are not just beautiful additions to your space; they're also investments in art. Their exclusivity adds value, making them more than just decorative pieces.
Bringing Australian Wildlife Into Your Home
A Connection to Nature
This art print is more than just a depiction of a bird; it's a way to bring a slice of the Australian wilderness into your living space. It's an invitation to connect with nature every day.
Celebrating Australian Fauna
By choosing this print, you're celebrating the rich and diverse wildlife of Australia. It's a celebration of the country's unique fauna and an acknowledgment of its importance in our world. You can find more Contemporary Australian here. 
Why Choose This Australian Animal Print?
High-Quality Craftsmanship
Our Pink Kookaburra print is produced using the finest materials and printing techniques, ensuring a high-quality piece that will stand the test of time.
Supporting Australian Art
By purchasing this print, you're not just decorating your home; you're also supporting Australian artists and wildlife conservation efforts. It's a purchase you can feel good about.
A Perfect Gift for Nature Lovers
Thoughtful and Unique
Looking for a unique gift for someone who loves nature and art? This Australian animal print is a thoughtful choice that is sure to be appreciated and cherished.
Share the Beauty of Australian Wildlife
Gifting this print is a way to share the beauty and wonder of Australian wildlife with friends and family, spreading the joy and appreciation for nature.
See This Artwork in Your Space Before Buying
Virtual Preview with Our Mock-up Service
With our special mock-up service, you can visualise how the Pink Kookaburra print will look in your space before making a purchase. It's a convenient way to shop with confidence.
Tailoring Your Art Experience
This service allows you to tailor your art-buying experience, ensuring the print you choose fits perfectly within your home's aesthetics.
Conclusion: An Art Piece That Speaks Volumes
The Pink Kookaburra No.2 framed canvas print is more than just wall art; it's a piece that captures the essence of Australian wildlife and brings a touch of nature's tranquility to your home. With its versatile styling options, high-quality craftsmanship, and limited-edition status, it's a must-have for any art collector or nature enthusiast. Explore the beauty and charm of Australian fauna with this exquisite art print.
Canvas Prints
Our superior framed canvas prints feature a 38mm stretched canvas within a traditional picture frame.
The thin frame sits approximately 5mm from the edge of the canvas helping to create a floating border.
Our canvas prints are made to order and take approximately 7 working days to print and frame.
Our prints are carefully packaged in rigid, double-wall corrugated cardboard boxes ensuring maximum protection and that you print arrives in pristine condition.
Canvas Frame dimensions:
Depth from wall: 53mm
Face width (frame): 12mm
Face width (gap): 5mm
Base width: 32mm
Rebate depth: 40mm

All artwork prints are made to order and will be shipped within 5-7 working days.
Free delivery within Australia. 
Your order will be sent via registered post and tracking details emailed to you when its ready to be delivered.
Our framed prints are packed in rigid, double-wall corrugated cardboard boxes ensuring maximum protection.
Our 14-day return policy allows you to request a return within 14 days of receiving your item. The item must be in its original condition and packaging, with receipt or proof of purchase. Contact us at hello@havenprints.com.au to initiate a return. If accepted, we'll provide a return shipping label and instructions. Returns without prior request won't be accepted.
We don't accept returns for change of mind or sale items. For damaged, defective, or incorrect items, contact us immediately for resolution. Custom products and special orders are non-returnable. We don't accept exchanges for change of mind or wrong item choice. Refunds, if approved, will be processed to the original payment method. See full policy here.
Send a photo of your room via chat & or email and we'll create a mock up for you of the artwork in you home.
Kookaburra Print - un framed
Absolutely love my Kookaburra print. He's stunning!
The quality is so good.
I've just purchased another print to match him.
About the artist
Kristin Rubie
A lover of art, interior design and all the beautiful things! I'm the artist, designer and the owner of Haven Prints.

My vision is to bring you an exclusive range of beautiful artwork that helps you to create a space that makes you feel happy, every single day.

My hope is that the artwork found here will bring joy to your home and help you create a haven that you love coming home to.